According to the FDA's official website, the indications of three PARP inhibitors for the last-line treatment of ovarian cancer have been withdrawn, namely AstraZeneca's olaparib, Merck/GSK's niraparib, and Clovis Oncology's lucaparib.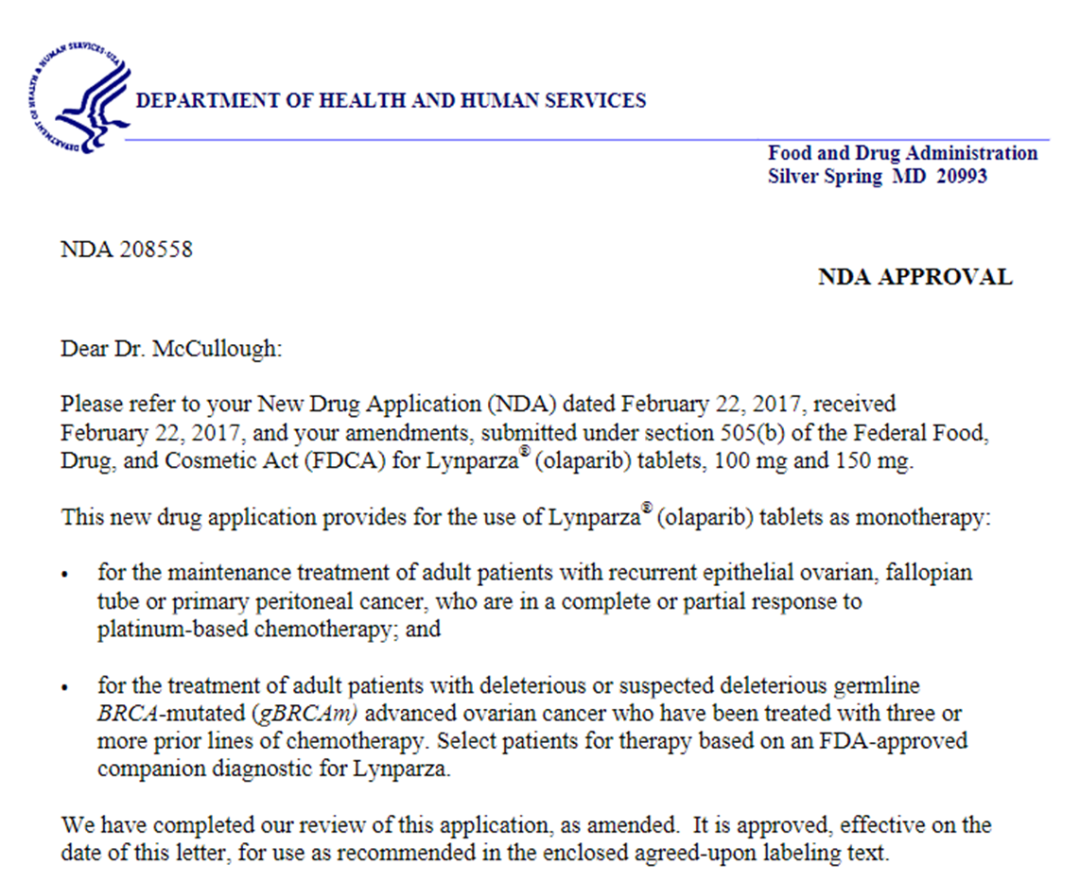 Olapali's Withdrawal Notice Letter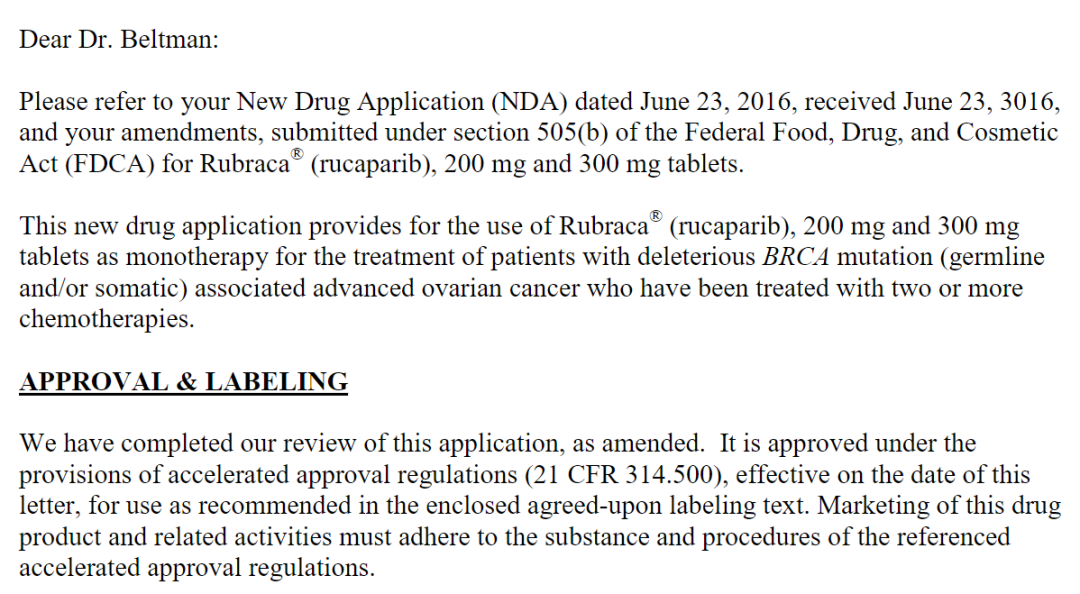 Rukapani's Withdrawal Notice Letter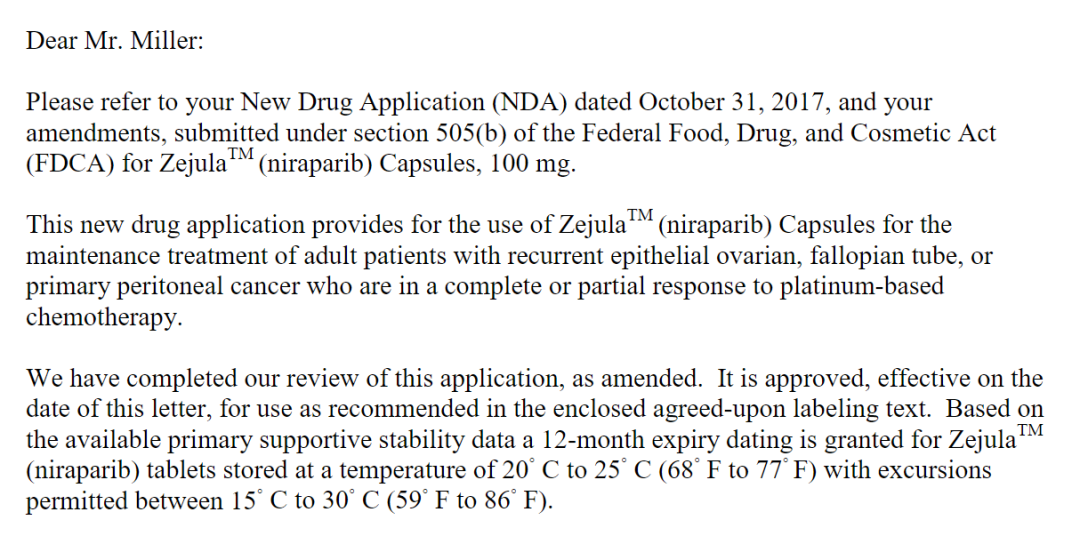 Nirapali's Withdrawal Notice Letter
BRCA genes, including BRCA1 and BRCA2, are two important tumor suppressor genes, which are mainly used to repair DNA damage and play an important role in maintaining the genetic stability of cells. If either gene is mutated or altered, the DNA damage may not be repaired properly, resulting in impaired cell stability or additional genetic mutations that can lead to cancer. Poly(ADP-ribose) polymerase (PARP) has the function of repairing DNA single-strand damage, inhibiting the accumulation of DNA mutation damage in tumor cells and causing tumor cell death.
Olapali
Olaparib is a PARP1/2 inhibitor independently developed by AstraZeneca. It is the world's first marketed PARP inhibitor and the first targeted therapy drug that uses DNA damage repair pathway defects to kill cancer cells. In July 2017, AstraZeneca and Merck reached a strategic cooperation agreement to jointly develop and commercialize the monotherapy and combination therapy of olaparib.
In December 2014, olaparib was approved for the first time in the EU for the first-line maintenance treatment of platinum-sensitive recurrent BRCA-mutated (germline and/or somatic) high-grade serous epithelial ovarian, fallopian tube or primary ovarian cancer. patients with primary peritoneal cancer who had a complete or partial response to platinum-based chemotherapy.
In June of the same year, AstraZeneca submitted a marketing application for olaparib to the FDA, followed by accelerated approval in December for the monotherapy of patients with deleterious or suspected deleterious germline BRCA-mutated advanced ovarian cancer who received After the third or more lines of chemotherapy, that is, the withdrawal indication.
Rucapani
Lucaparib is an oral PARP1/2/3 inhibitor originally developed by Agouron (now a Pfizer subsidiary). In June 2011, Agouron entered into an agreement with Clovis Oncology, granting the latter global development and commercialization rights to rucapanib. Lucaparib is the second PARP inhibitor to be marketed globally after olaparib.
The launch of Rucapani also went through an accelerated approval process. In April 2015, rucaparib was granted breakthrough therapy designation, and it was declared for marketing in June 2016, and its marketing application was subsequently granted priority review by the FDA in August. In December 2016, rucaparib received accelerated approval as a monotherapy for the treatment of patients with deleterious BRCA mutation (germline and/or somatic)-associated advanced ovarian cancer who have received second-line or more chemotherapy, That is, the indication for this withdrawal.
Clovis Oncology withdrew rucaparib from the third-line treatment of ovarian cancer in June this year.
Nirapali
Niraparib is a pan-PARP inhibitor first developed by Merck and licensed to Tesaro in May 2012. In December 2018, GSK announced the acquisition of Tesaro for $5.1 billion, bringing Nirapali into the bag.
In March 2017, niraparib was first approved for marketing for the treatment of patients with ovarian cancer, fallopian tube cancer or primary peritoneal cancer who achieved complete remission or partial remission after receiving platinum-based chemotherapy. item indications.