On October 14, a study titled "Dynamic Changes in the NK-, Neutrophil-, and B-cell Immunophenotypes Relevant in High Metastatic Risk Post Neoadjuvant Chemotherapy–Resistant Early Breast Cancers" was published in the international journal Clinical Cancer Research. In this study, scientists from institutions including the Institute for Cancer Research, London, identified specific immune cell types that could be targeted to develop new immunotherapies against chemotherapy-resistant breast cancer.
In this study, researchers conducted an in-depth analysis of different immune markers in tumor tissue and blood samples from early-stage breast cancer patients whose cancers did not respond to chemotherapy before surgery. Relevant research results may help to better understand the function of immune cells in breast cancer patients who are resistant to chemotherapy. Because chemotherapy may not kill cancer cells in high-risk patients, it may help the body's immune system to attack cancer cells. There may be some therapeutic benefit from immunotherapy.
To investigate the immune environment surrounding these chemotherapy-resistant tumors, the researchers used novel complementary techniques to observe protein and gene expression in breast cancer tissue from patients before and after treatment. They also measured cancer tissue How 1330 cancer and immune-related genes are affected by chemotherapy. They found that chemotherapy-resistant cancer cells had very few immune cells around them, but chemotherapy induced changes in a variety of immune cell types. Specifically, they found, such as neutrophils and natural killer cells (NK cells) While the number of innate immune cells (first responder cells) increases, NK cells help the body defend against infection and cancer, but the analysis showed that increased levels of NK cells in patients with chemotherapy-resistant disease lack cytotoxic activity, i.e. ability to kill cancer cells.
In addition, the researchers found that the immune-related genes associated with NK cells may be those involved in cell suppression or depletion, which means that NK cells may not be able to defend against cancer cells; this new insight into NK cell behavior may be used The development of specific immunotherapies for these high-risk patients may need to be investigated in future clinical trials. These findings also suggest that blood monitoring during chemotherapy may help predict a patient's response to chemotherapy earlier, allowing for timely adjustments to therapy before surgery. Investigator Sheeba Irshad said that chemotherapy resistance in aggressive early breast cancer is a major cause of cancer recurrence and growth after therapy, which may lead to increased patient mortality. In order to find suitable targets for drug development, research A deep understanding of the complex mechanisms that promote resistance to therapy in certain cancer cells, which often evade the host's immune system, will only reappear when it is difficult to eradicate.
The work in this paper has identified a number of cell types that deserve further investigation. The aim of the researchers is to understand how they interact with resistant cancer cells and how to adjust this to benefit cancer patients. Excited to continue investigating these research findings. Researcher Andrew Tutt pointed out that we have made many advances in traditional Chinese medicine in the use of immunotherapy to treat many types of cancer, but we still need to do better to achieve successful treatment of breast cancer patients. This exciting research program may advance scientists' understanding of the interaction between the body's cancer cells and the immune system during therapy, and why current therapies are only effective in some patients. Anticancer immune response of breast cancer patients, especially breast cancer patients whose body cancer does not respond to chemotherapy.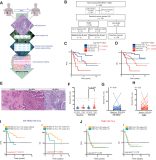 With around 35,000 individuals currently living with incurable metastatic breast cancer in the UK, researchers need to develop more effective and ingenious treatments to ensure fewer people hear the bad news about the disease returning or spreading. This very exciting early study may help develop a new way to target breast cancer cells that are resistant to chemotherapy; the researchers hope that based on the results of this paper, they will later develop effective immunotherapies to help More breast cancer patients survive.
In conclusion, in this study, researchers identified multiple immunological pathways in residual disease that may be targeted to develop novel targeted therapies that benefit high-risk breast cancer patients.
References:
Patrycja Gazinska, Charlotte Milton, Jacopo Iacovacci, et al. Dynamic Changes in the NK-, Neutrophil-, and B-cell Immunophenotypes Relevant in High Metastatic Risk Post Neoadjuvant Chemotherapy–Resistant Early Breast Cancers, Clinical Cancer Research (2022). DOI: 10.1158/1078-0432.CCR-22-0543